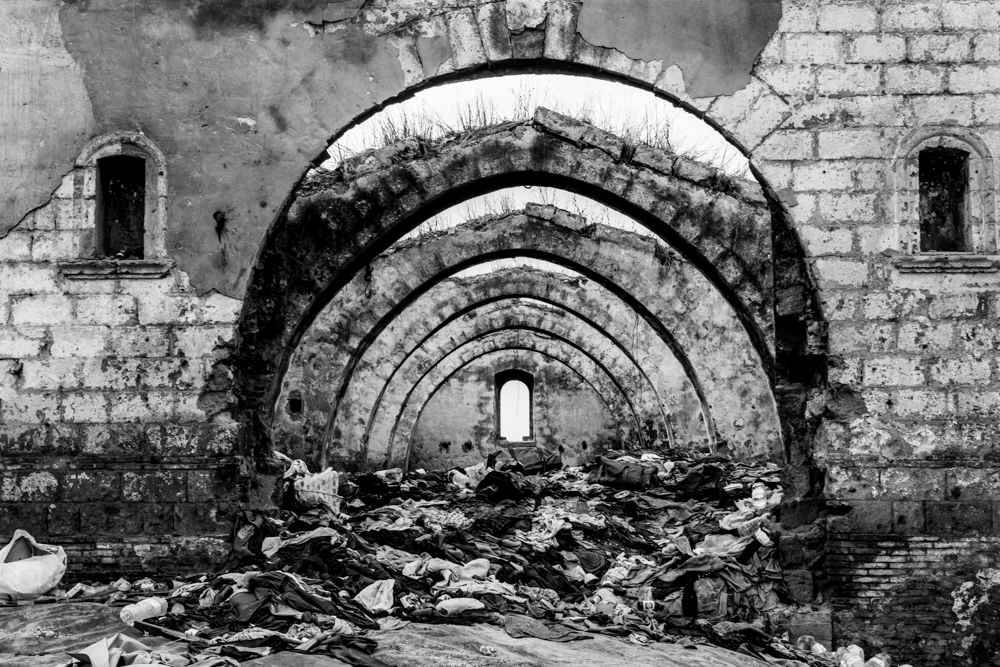 Tomato Blues is a photografic-theatrical-acoustic instalation in the form of an experiential path whose subject is the exploitation of work based on the process of food production.
The journey is formed in an introductive ambience, followed by a photografic-acoustic exhibition composed of three different spaces and finally, a theatrical installation, constructed as a living picture, that forms the last stage. 
The stages of the journey
1st stage: the introductive ambience
the spectator enters the 1st ambient where a few photos of the Tavoliere delle Puglie (an agricultural area in the province of Foggia) are exhibited. The photos depict solely the vast and open countryside of Tavoliere that is cultivated but without human figures. This space will bring him closer to the fields. 
Two explanatory posters introduce the subject.
In the background sounds from the environvment are played: wind, some birds, a rare car that shoots down the long straight roads that cut the landscape. Further away, the intermittent sounds of an agricultural machine.
on a table in the center of the space there is a box of 200 grams, a small box wrapped with a lot of labelled tape similar to those that can be found in any supermarket, with the vending price clearly indicated and next to it a large case full of tomatoes, with a sign indicating how much is paid for the labor of the worker who fills the big case - 60 cents.
The ambience is semi-dark, spotlights specificaly illuminate the photos, the posters and the table with the small box next to the tomato case.
2nd stage: The exhibition.
3rd stage: The performance
The theatrical performance will take place in a closed environment in the dark. An actress is standing still in the center of a space, on top of one or more empty plastic tomato cases. she is wearing a long white cotton tunic and is illuminated in chiaroscuro from the bottom by a cone of light. A white cotton gauze fabric is fixed to the ceiling and dangling above her head.
This fabric will contain plastic tomatoes and balls that when perforated will release the tomato sauce they contain on the actress, staining her dress.  The repetitive sound of a drop of water  
and its echo will accompany the immersive experience that will last until the last spectator leaves the place. 

The performance was conceived and formed as a living picture. the spectators pass, observe, stop for as long as they wish to, living and absorbing the sensations. There is no temporary beginning nor end. The performance is viewed as though facing a contemporary artistic installation. 
A vision where space slowly  changes  its own characteristics.  The performer faces a journey in which he is immersed, crossing the spaces of the exhibition again, and going beyond, migrating into other places, searching for possibilities for rebirth.   
The self-transforming material becomes
independent. Meahwhile, something
of the silently crawling
indifference drops
on all of
us